The Storyteller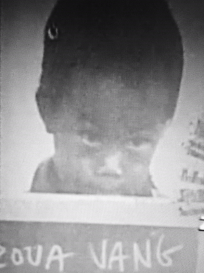 Like many other Hmong families, my parents left Laos and came to the United States as refugees.  I came to America as a toddler and grew up in Fresno, CA.  After graduating valedictorian of my high school class, I was asked to appear on the "Hmong Today" television show.  Soon after, I was invited to return on a regular basis.  At 17 years old, I began co-hosting and reporting for the show.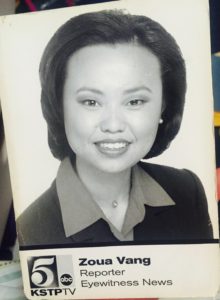 While in college, as an intern at KSTP-TV, the ABC station in St. Paul/Minneapolis, I broke a huge news story.  I got the exclusive interview with the father of six children who were murdered by their mother.  Sadly, this tragic story was how I got my big "break" into the news business.  While finishing college and driving my four younger sisters to school every day, I also worked full-time filing news reports as a reporter-trainee.  I didn't know it then, but apparently I was the first television journalist of Hmong descent to work in mainstream media in the United States.
After graduating from the University of Minnesota with degrees in Asian and American history and broadcast journalism, I moved to Fresno and worked as a reporter/fill-in anchor at KSEE-TV, the NBC station.  I traveled all over California's San Joaquin Valley and the world.  I documented the impacts of the September 11th bombing at Ground Zero in New York City and the closing of the last Hmong refugee camp in Thailand.  I was honored with two Associated Press Awards and a Best of the West award for my reporting.
The Communications Strategist
In 2005, I left the media to follow my other passion – policy and advocacy work.  I joined First 5 Fresno County, a children's grant-making and advocacy organization.  I was the agency's first Communications and Policy Director.  I helped establish and shape the agency's brand and reputation as well as its groundbreaking policy work.  The highlight of my tenure there was our agency successfully suing the State of California, halting the State from raiding millions of dollars from a trust fund set up for children.
I earned my Master's in Mass Communications at California State University, Fresno and continued advocating for children.
In 2010, my advocacy for children became personal.  My daughter, Alyssa, was diagnosed with a rare genetic disorder.
In 2014, to better meet the needs of our family, I walked away from a traditional career but took with me my insider knowledge of policy and advocacy work and my skills as a storyteller.
I continue doing speaking engagements and take on interesting projects as a strategic communications consultant.
If you are inquiring about a speaking engagement or my consultation services, please contact our scheduler at [email protected]
I live in Minnesota with my husband, Darrell, and our three children, Jonathan, Alyssa, and Matthew.